A Blast from the Past
As the next in a sequence of classic articles from early Slingshots that we will be releasing as pdfs on the website, we present Solo Campaigning from Slingshot 192, an article by John Graham-Leigh describing a quick and easy way to generate more interesting battles than the standard equal points, line up and fight ones. The pdf is available
here
.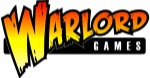 Warlord Games Offer
Our friends at Warlord Games are offering a discounted membership package: membership of the Society, plus their 28mm miniatures starter set for the Early Imperial Roman period –
Hail Caesar: The conquest of Gaul
– at a discounted price of 10% off!
See
our Special Offers page
for more details.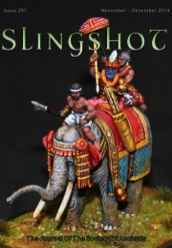 Slingshot 297 is at the printers
Including:
Alexander's Army at the Hydaspes, by Duncan Head
The Ancient Indian Army of Poros, by Jeff Jonas
Command & Colors on the Tabletop (2), by Steven Neate
Emperors, Elephants and Electronic Discussions, by David Kay
The Elephant in the Room, by Mark Fry
An Anglo-Irish Urban Militia, by Mick Hession
When Caesar's Away, the Gauls Will Play, by Chris Hahn
The Classical Indian Archer, by Richard Lockwood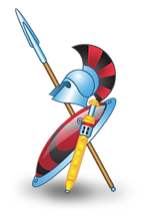 About the Society
The Society of Ancients is an international amateur society for the promotion of the study of ancient and medieval military history and wargaming the period 3000 BC to 1500 AD. It is run by volunteers for the benefit of its worldwide membership. The Society publishes a bi-monthly journal,
Slingshot
, and sponsors various events, including wargames tournaments.
The Society was formed in 1965 by Tony Bath with 20 or so founder members. Our membership is now over 1100 worldwide. The Society is not run for profit but is supported by and exists for the benefit of its members and to promote Ancient military history and wargaming. Membership is open to all, renewable annually.
All finances are ploughed back to improve services and add value. We have also been active in establishing links with the commercial side of our hobby and now members have
access to discounts
from a range of figure traders, specialist books and games.
The Society publishes its journal, Slingshot, 6 times a year. Most of the content is contributed by Society members on a wide range of items related to Ancient and Medieval military history and wargaming.
There are historical articles, reviews, letters, game design ideas, as well as the usual discussion on various wargames rules. Competition results and the occasional battle report are also published. Slingshot is designed to showcase the written contributions from our membership and features original pen and ink artwork.

Operation Balearic
Selected Slingshot back issues will be available for the bargain price of £5 (£4 for members) + p&p. That's a year's worth of Slingshots for the price of only one magazine. Only available while stocks last.
Click here!
Planet Ancients
The "one stop shop" for blog feeds from Society members is now
available
, formatted in line with the rest of the site, and can also be followed via email and RSS. To request your blog be added, go to the
Contact Us
page and let us know: set the topic to AddMyBlog!
Membership Renewal
Membership now runs for six issues from the point that you subscribe from, rather than annually. The
Join page
will tell you the first issue you will receive and your membership number will tell you the issue after which you need to renew.
How to Join the Society
It's very easy to join -– just go to the
main store page
, add a membership to your cart and check out using Paypal. You don't need to be an existing Paypal account holder to submit a payment. You can alternatively download a postal membership form
here
.
Follow us on social media:
BattleDay 2015 - Hydaspes!
From BattleDay coordinator Richard Lockwood:

The Battle for 2015 has now been chosen as Hydaspes - Alexander the Great against Poros. Time to start dusting off all those Indian elephants and Macedonian phalangites.

Full details on the BattleDay page
.